Serving coffee with a purpose: Texas coffee shop donates 100-percent of profits to children's charities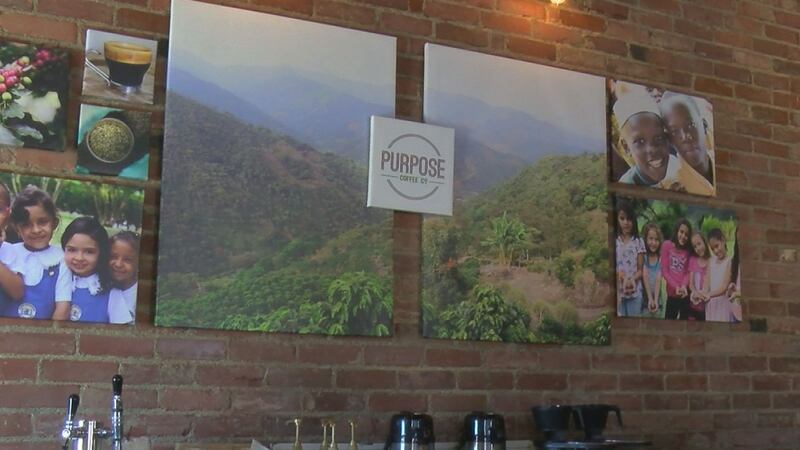 Updated: Sep. 4, 2018 at 9:17 PM CDT
DALHART, TX (KFDA) - From roasting coffee beans to serving cups of coffee to customers, owning a coffee shop has always been a goal for Julia Williams.
"I wanted to grow up and have a coffee shop that helped kids and I had no idea what that could possibly look like or how I could make that work," said Williams, co-owner of Purpose Coffee Co.
Get the latest Amarillo news straight to your phone! Apple | Android
As life took her a different route through a career, marriage and church, a mission trip abroad brought that goal back in mind.
"We got really impassioned about the kids and the ministry there, so we came back and wanted to continue to impact their lives and raise money for those kids, so with our church, we helped start Purpose Coffee Company," said Williams.
Taking a unique approach to their business, the shop's owners do not keep any profits for themselves.
With coffee and merchandise sales, they only take out the necessary costs like coffee beans, barista wages and building utilities. Afterward, they donate 100 percent of the profits to children's charities in countries around the world where they've served missions. On top of that, they also buy their coffee beans from those countries they donate to.
"We try to source our beans from these areas, knowing that these farmers, they have a direct relationship to develop those economies," said Russell Williams, co-owner of Purpose Coffee Co.
In just a few weeks, the shop will host a Purpose Run, where they will cross a major milestone of $100,000 donated to charities in the few years they've been open.
For the couple, having the support of the Dalhart community makes their mission even more special.
"I thought we would eventually get there," said Russell. "I thought it might take us 10 years to do it."
"I think that's one of the special things about being in a small town, that they've really rallied around the cause," said Julia.
Check out the latest events and businesses with New in Amarillo on Facebook!
It's a cause that has taken them on quite the journey.
"It's been a fantastic journey, knowing that people like the coffee, knowing that people support the vision and then knowing that we can give back to a less fortunate community has been amazing for us," said Russell.
It's a unique mission, serving each cup of coffee up with a purpose.
Copyright 2018 KFDA. All rights reserved.