BBB advisory: Yellow Pages invoices circulating the panhandle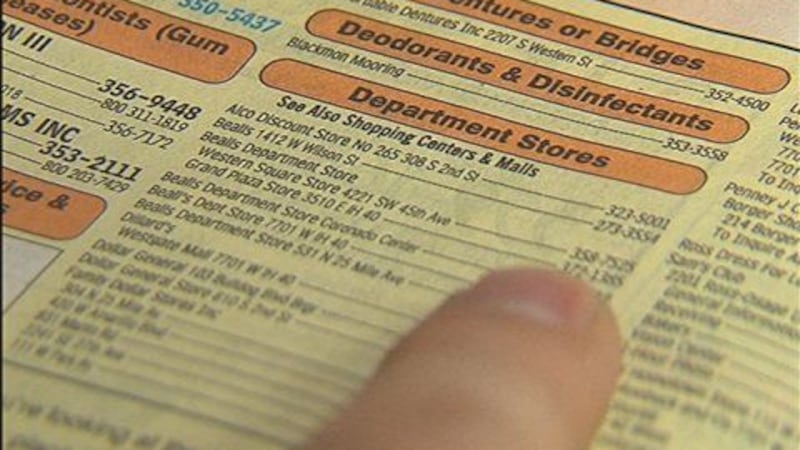 Published: Aug. 30, 2012 at 2:35 AM CDT
|
Updated: Aug. 30, 2012 at 12:18 PM CDT
AMARILLO, TX- The BBB is alerting residents about a phone book invoice scam targeting businesses across our region.
August and September are when the Yellow Pages send out yearly subscription invoices.
It's also a time you could be taken advantage of if you're not careful.
Each year, businesses wanting to advertise in the Yellow Pages pay a subscription fee--usually between $200 and $700 depending upon the size of the ad.
Before paying on an invoice, Janna Kiehl with the Better Business Bureau says you should really pay attention to the bill because it could be fake.
"These invoices are very much like the real invoices for Yellow Pages because the words and walking fingers (logo) are not copyrighted so any company can use them," she said.
In return, being able to make a copy of a legitimate logo or slogan opens up the door for problems.
"This logo is very closely linked to a logo for a Yellow Pages book," Kiehl pointed out as she showed us a real invoice from a fake one.
What could raise eyebrows but is not necessarily a red flag is when the invoice comes from an out of state address.
"Any local company could have a corporate address," Kiehl added.
However, it's important to note that if you normally receive an invoice from an Amarillo office address, you should ask questions if you suddenly receive a bill from an address you don't recognize.
If ever in doubt, the best thing business owners can do is contact the Better Business Bureau.
You can also file complaints and find helpful information online at bbb.org.