Coffee Memorial Blood Center's Pre-Thanksgiving Extravaganza kicks off Tuesday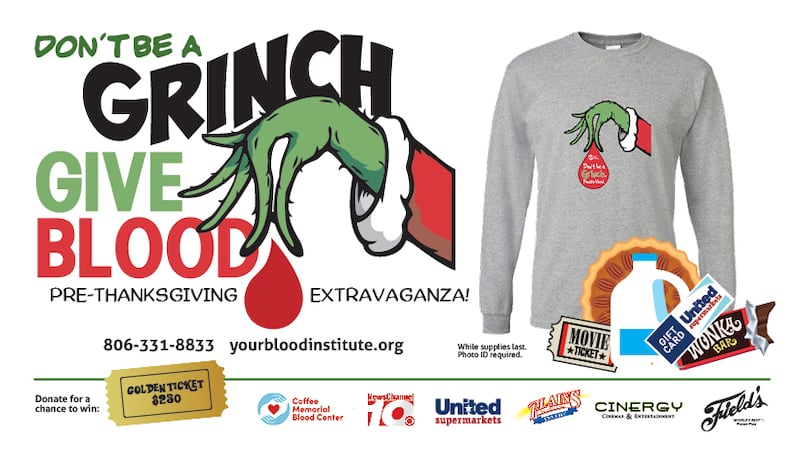 Published: Nov. 20, 2023 at 1:31 PM CST
AMARILLO, Texas (KFDA) - Coffee Memorial Blood Center will host its Pre-Thanksgiving Extravaganza blood drive this Tuesday.
The blood drive will be held from 6:00 a.m. until 7:00 p.m. at Coffee Memorial Blood Center, 7500 Wallace Blvd #2149.
"Texas have continued to donate and ensure that the local blood supply is able to meet the demand," said Dr. John Armitage, president and CEO of Coffee Memorial Blood Center. "As we enter the holiday season, we encourage you to take just an hour out of your busy schedule to give the precious gift of life this holiday season."
Event organizers say donors can get:
A Grinch long-sleeved T-shirt

A free movie pass to Cinergy Cinemas & Entertainment

A free gallon of milk from Plain's Dairy

A free chocolate bar with a chance to win a golden ticket for a $250 Visa gift card

Entry to win one of four $75 United Supermarkets gift cards.
Anyone who is healthy and 16 years old or older can give blood. Appointments to donate can be made online at the Coffee Memorial Blood Center website or by calling 877-340-8777.
Copyright 2023 KFDA. All rights reserved.