New in Amarillo: New coffee stops for your morning pick-me-up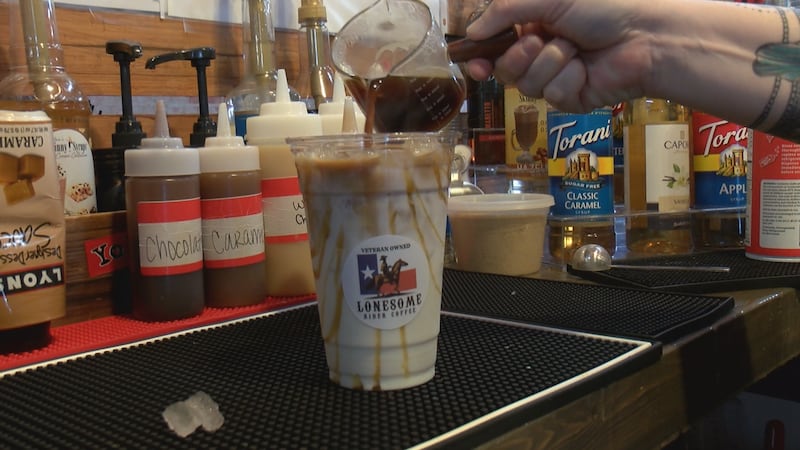 Published: Sep. 29, 2023 at 8:39 AM CDT
AMARILLO, Texas (KFDA) - Early in the morning, we know exactly what you need: A full cup of coffee.
This week's New in Amarillo features a new coffee option and a new location for a chain coffee shop many people know and love to get.
Lonesome Riders Coffee
The veteran-owned, Lonesome Riders Coffee, has moved into Yolos downtown at 316 6. Ave.
Bags of coffee can be bought on-site and it's what they use for every coffee drink.
The creator was stationed overseas and had no way to get coffee. When he came back to the U.S., he wanted to make sure military members had access to coffee at an affordable price.
Lonesome Rider gives back a percentage of coffee bag sales to veterans and finds a common mission with Yolos.
"We give back a lot to our community, we do kickbacks to our veterans, we try to support different foundations like our police department," said Yolanda Grazier, owner of Lonesome Rider Amarillo. "We give incentives for the officers on duty. We really try to support them in every way that a small business can."
Lonesome Rider has a full coffee line at Yolos with fall drinks, including a sweater weather latte with marshmallows and a dirty pumpkin chai.
Starbucks on Georgia
Starbucks is adding a new location on South Georgia Street and Southwest 58th Avenue.
It is currently being built and an open date has not been released.
It will be the 10th Starbucks in town, including the ones inside Target and United Supermarkets.
Copyright 2023 KFDA. All rights reserved.