Blind dog found dumped on side of road; owner arrested, sheriff's office says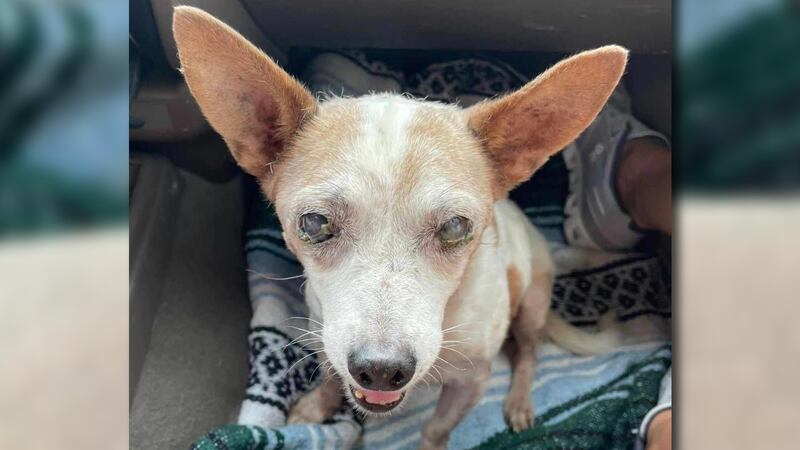 Published: Sep. 7, 2023 at 8:02 PM CDT
TUCSON, Ariz. (KOLD/Gray News) - An Arizona woman has been arrested for dumping her elderly, vision-impaired dog on the side of the road last month.
According to the Cochise County Sheriff's Office, the dog was found on Aug. 26 walking down an exit ramp near Interstate 10 in Benson, about 50 minutes from Tucson.
Cochise County Sheriff Mark Dannels said he and his wife Nickie were the ones who found the dog walking by itself.
Animal control officers in Cochise County took custody of the dog and determined it was chipped with the last registered owner out of Maricopa County.
Numerous calls and messages were left for the owner, but there was no response.
On Wednesday, Sheriff Dannels and Sgt. Ray McNeely attended a community event in Phoenix. Upon completion, they followed up on the investigation to locate the animal's owner.
Authorities said the dog's owner came back as 62-year-old Karen Black, according to the microchip.
They located her home in central Phoenix and spoke to her regarding the animal. However, Black's initial story was misleading, and she claimed she was never in Cochise County.
Sheriff Dannels said Black then changed her story and admitted to leaving the dog on the side of the road.
Black was taken into custody and is facing an animal cruelty charge.
The 62-year-old is scheduled to face a judge in Cochise County later this month.
County officials said the dog will be held at a shelter until the case is adjudicated.
Copyright 2023 KOLD via Gray Media Group, Inc. All rights reserved.