Canyon holds special moment for Perryton with intentional delay of game to start first drive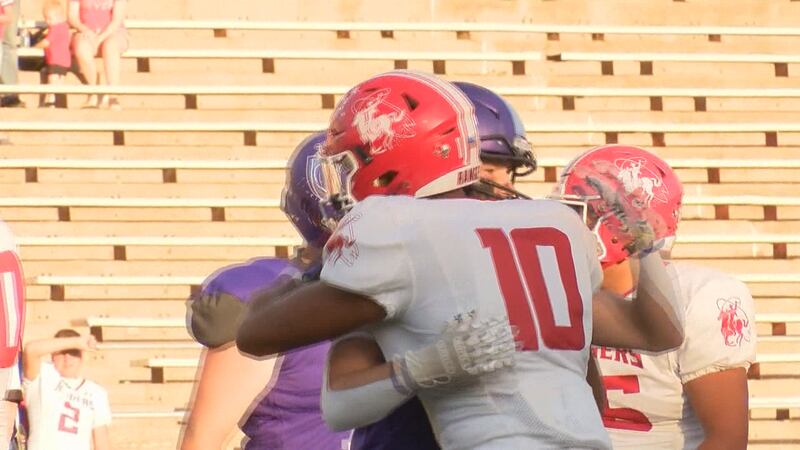 Published: Sep. 2, 2023 at 12:11 AM CDT
AMARILLO, Texas (KFDA) - It was a fantastic Week 2 matchup between Perryton and Canyon, one that ended with Perryton just one touchdown and two-point conversion away from sending things to overtime.
However, the best play of the game was one in which the ball was never snapped.
On Canyon's first offensive possession, the Eagles chose to take an intentional delay of game penalty to honor the Perryton community after the tornado that damaged the town early this past summer.
The Perryton and Canyon players embraced at midfield, as the Eagles crowd donned signs and ribbons in honor of the opposition. Suffice it to say, the home crowd wearing road colors is certainly a rarity on Friday night's in Texas.
"Coach Winfrey runs a class act program and that meant a lot to us as a team and a community." Perryton football head coach Cole Underwood said regarding the gesture. "We have kiddos on our team who lost anything from their houses to their family members. For him to be willing to do that for Perryton meant a lot to us."
This isn't the first time Winfrey has stepped up to do something special for the Perryton community. This past July, the football coach traded in his whistle and playbook for a guitar and microphone to put on a charity concert that helped raise money for both Perryton and Matador, with the latter suffering a similar tragedy this summer.
"It's nothing more than Panhandle spirit." Winfrey explained on why he decided prior to the contest to take the penalty. "That's why we did the fundraiser at the Sad Monkey... We just wanted to do something to tell Perryton we love them."
For more details on how to continue to help the Perryton community and future Texas Panhandle communities impacted by similar disasters, click here.
Copyright 2023 KFDA. All rights reserved.