Dalhart High School to wear Crimson and OU gear in honor of Preston Ralston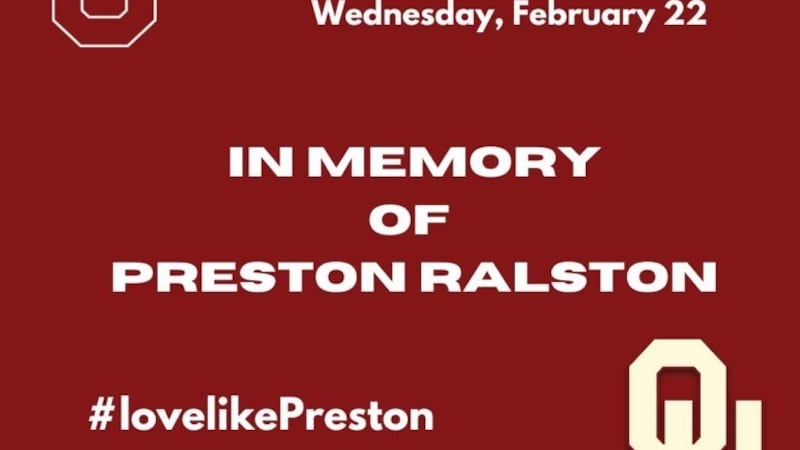 Published: Feb. 17, 2023 at 5:07 PM CST
AMARILLO, Texas (KFDA) - Traditionally, Wednesday's at Dalhart High are college days but the school is encouraging students and the community to wear University of Oklahoma gear or crimson and cream, Preston Ralston's favorite team and colors.
Preston Ralston was accidentally shot Monday at lunch leaving the city of Dalhart heart broken.
"I'm lost for words. I'm speechless. Our community is heartbroken but we're resilient. The people in this community are so caring and giving and we just asked those outside of Dalhart to continue to keep us in their thoughts and prayers and in a regime and say a prayer for this family they're awesome people," said Jeff Byrd, Superintendent of Dalhart ISD.
In order to keep Preston's memory alive, the school is asking students to wear his favorite colors this coming Wednesday.
"Preston's favorite school and his favorite colors are crimson. He was a big OU fan so the high school is encouraging everybody to wear the color crimson and there'll be a lot of Boomer Sooners in the school that day," said Byrd.
Dalhart ISD's superintendent says the school wants to honor Preston and the type of person he was.
"I would say the reason that the kids are wanting to honor Preston this precedent was just such a great kid you know like everybody's Facebook page honoring Preston says 'love like Preston.' Other students respected and admired him. He was just a great kid. He never got in trouble," said Byrd.
Byrd continued sharing more on Preston saying "he was a tremendous young man. He was kind of quiet, but he just had a way of being at ease when you were around him. The other students respected and admired him. He was just a great kid. He never got in trouble. He didn't call attention to himself and he was just well respected and love by both the faculty and the students. We want the parents and the family to know how much we love and care for them in their in everybody's thoughts and prayers and we certainly our hearts just go out there's there's no words that we're grateful for having the opportunity to honor Preston and we're grateful that the parents are allowing us to do that."
Byrd says everyone is welcomed to join in and support the Ralston and Snead families by wearing crimson and reminds those to keep 'loving like Preston.'
"One of the few times you'll catch me wearing an OU shirt but I'll have one on myself that day," said Byrd.
Copyright 2023 KFDA. All rights reserved.