Salvation Army receives 'MASH' unit, tool for homeless community outreach
Updated: Apr. 21, 2021 at 6:07 AM CDT
AMARILLO, Texas (KFDA) - The Salvation Army of Amarillo received their first mobile auxiliary support hub, or MASH.
The tricycle carries a temperature controlled box, making it easy to ride through the city distributing food and other items to the homeless.
The Salvation Army says using this will make the homeless more comfortable, as oftentimes approaching them in a car or large vehicle is very intimidating.
"It's really about meeting them where they are," explained Major Ernst Hull, Salvation Army of Amarillo's commanding officer. "This is a critical piece of the puzzle. I think it will be definitely less intimidating than coming in a big vehicle. We're coming to them in a personal way...can't get much more personal than riding up on a bicycle."
They believe the MASH unit will encourage homeless to enter the shelter.
"A lot of them might not come to our shelter on their own," Major Hull continued. "If they see us come to them, we can encourage them in person to come seek the shelter and get the help that they need to be self sustaining again. We want them off the street, we want them into our shelters so we can get them into housing."
Major Hull says even if a homeless person does not want shelter, they can at least deliver hot meals and cold drinks using the MASH unit.
"We'll be using this quite a bit for our homeless outreach. It can hold hot food and cold drinks in it, so it is effective if we needed to go out and do street feeding," he explained. "On a cold blue night, we can actually go out with hot food and drinks for the folks that are homeless on the streets."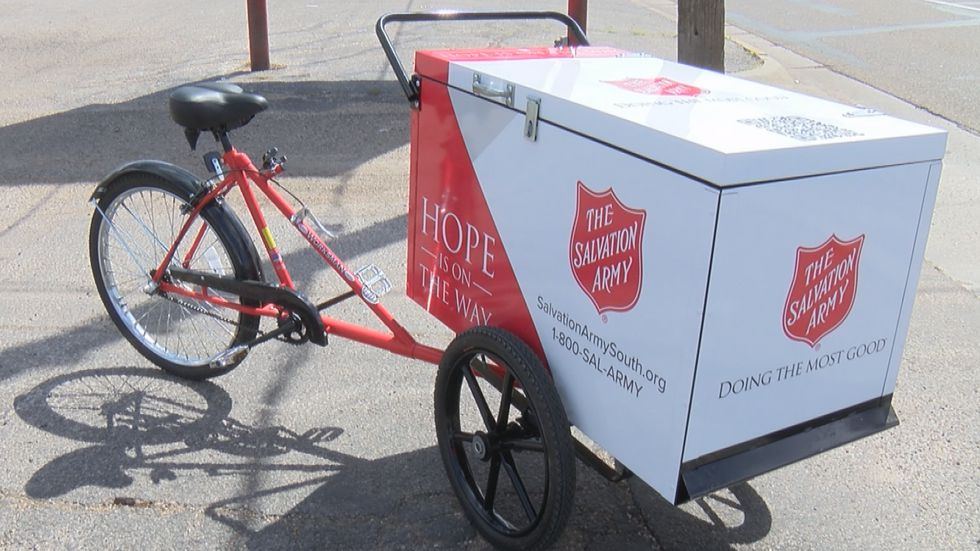 The unit is also useful in small disaster situations.
The Salvation Army of Amarillo put in a request for the MASH unit as they didn't have a vehicle specific for disaster situations.
The Texas Territory of the Salvation Army accepted their request, making Amarillo one of just a handful of cities who have this unit.
"The MASH units are going to be great for Amarillo," said Quintin Marquez, public relations manager for the Salvation Army of Amarillo. "We can help out in small disasters...get into neighborhoods a big vehicle can't. We'll be able to hold hot food as well as cold food in the MASH unit so it will get us to places maybe we wouldn't be able to in a big canteen. It's able to hold quite a lot of stuff and help out plenty of people."
The unit can also carry blankets and other equipment.
"We are [making] attempts to make things like the MASH unit available to us that way we can be at any event or disaster that hits Amarillo," said Marquez.
Copyright 2021 KFDA. All rights reserved.