NewsChannel 10 partners with TPSN, AISD and CISD to launch High School Football LIVE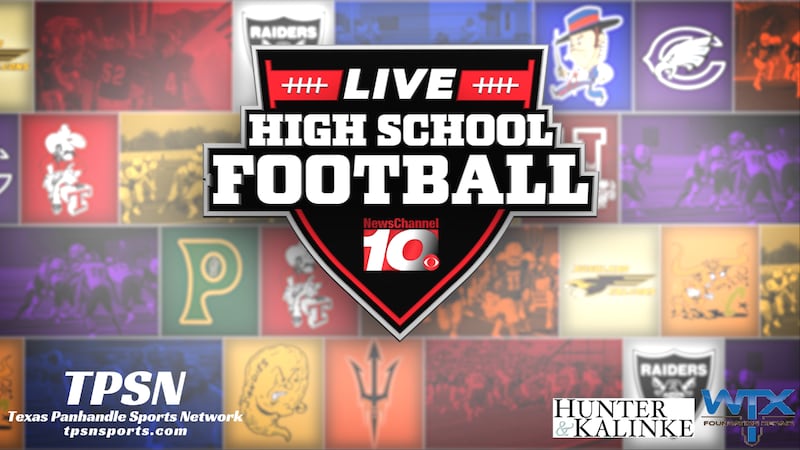 Updated: Sep. 3, 2020 at 11:50 AM CDT
AMARILLO, Texas (KFDA) - Your favorite sports media has come together to launch "High School Football LIVE."
NewsChannel 10 is partnering with the Texas Panhandle Sports Network, Amarillo Independent School District and Canyon Independent School District to bring Panhandle high school football games to you.
You can watch high school football on TV, live from Dick Bivins and Kimbrough stadiums, and games on our video streaming outlets along with being able to listen to games on the TPSN Network.
TV: NewsChannel 10 Too - 17 games planned

STREAMING: NewsChannel 10 Plus Video Network - 26 games

AUDIO: Texas Panhandle Sports Network streams - 47 games planned
High School Football LIVE launches Friday, September 4 and goes through December 3 with games broadcast on Thursdays and Fridays. This is your chance to watch and/or listen to high school football games across our area each week.
The games will be featured on NewsChannel 10 Too, NewsChannel 10 Plus and through audio links here on our website.
TPSN broadcasts every high school football game for Amarillo High, Caprock, Palo Duro, Tascosa, Canyon and Randall.
Mike Roden, director of TPSN, will host these broadcasts for NewsChannel 10 and TPSN.
"This is a groundbreaking opportunity to bring High School Football to the fan like never before. We are so excited to work with AISD, CISD and TPSN on this project. In the COVID-19 world we live in, this will give fans an opportunity to watch or listen to games wherever they would feel comfortable," said Brent McClure, General Manager of NewsChannel 10 Media.
Copyright 2020 KFDA. All rights reserved.