The 1949 tornado revisited: The twister by the numbers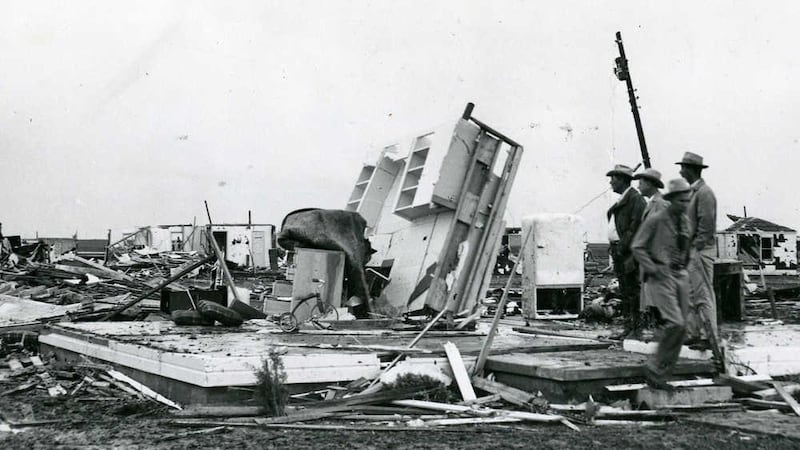 Updated: May. 15, 2019 at 4:04 PM CDT
AMARILLO, TX (KFDA) - May 15, 1949 was one for the record books.
This day saw the strongest tornado to ever hit Amarillo, a record that remains unbroken 70 years later.
The F-4 tornado touched down near Washington Street and Hollywood Road before moving toward Tradewinds Airport.
Eventually, the cyclone made its way to the National Weather Service after carving a path of destruction through the Yellow City.
Michael Grittinger, a Warning Coordination Meteorologist with the National Weather Service, said the damage was even more than it sounds like.
"$5 million in damage; Figure out inflation, [it's] a lot more than that," he said. "200 homes that were damaged, quite a bit of injuries and seven fatalities as well."
While we have better warnings today and strong building codes, a larger population and city could spell even higher risk in a similar weather situation.
"It's definitely up to people to take shelter and get to the right places or we can still have that same outcome, if people don't heed warnings and get to their safe place," said Grittinger.
It's never too late to have a severe weather safety plan in place.
"We're kind of on the edge of tornado alley here and have a lot more tornadoes east of here than west of Amarillo, but were certainly still in tornado alley. It's going to happen again at some point and we need to be prepared for that when it does," said Grittinger.
For the last 70 years, 84 miles-per-hour has been the record sustained wind speed here in Amarillo set back on May 15, 1949.
"Had to do with a storm that produced a tornado that came into the south side of town and moved up toward the airport. Records aren't clear is that was directly to do with the tornado circulation or other winds associated with the storm but it's stood ever since," said Grittinger.
We've seen our fair share of windy days here in Amarillo but nothing has ever beat the record. Fortunately, our technology has certainly improved over the years.
"They didn't have Doppler radar, we couldn't see circulation. Tornado warnings were very dependent completely on spotter networks at that time. The way observations has changed they were still hand writing things into books at that point. Everything is digital now constantly taking readings," saud Grittinger.
This tornado was retroactively rated an F 4 on the Fujita Scale which means estimated wind speeds of 207 to 260 miles-per-hour.
An F4, now known as EF 4, can cause devastating damage. Well-constructed house can be leveled, structures with weak foundations blown away, cars thrown and large missiles generated.
While 84 miles-per-hour was not the strongest wind speed that day it was the record recorded wind speed and has been the record ever since.
Copyright 2019 KFDA. All rights reserved.