Randall County Sheriff, 100 Club director at the center of distinction awards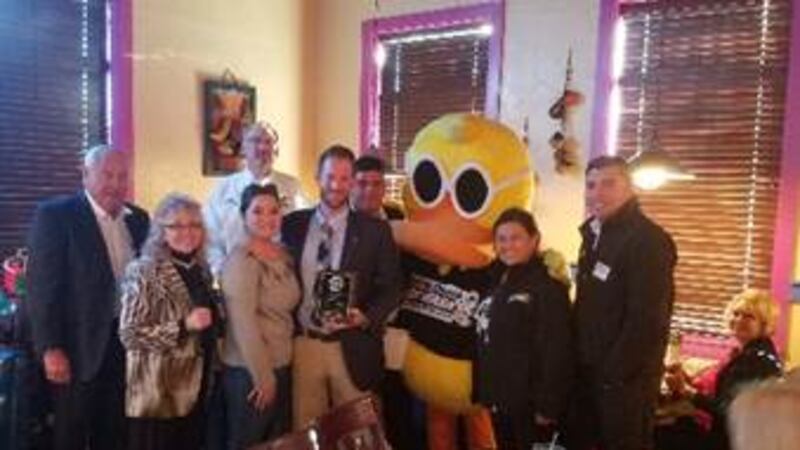 Updated: Nov. 18, 2018 at 7:57 PM CST
AMARILLO, TX (KFDA) - A local first responder and the executive director of the Texas Panhandle 100 Club were recently honored for their service to the community.
Randall County Sheriff Joel Richardson and Dirk Swope were honored as the Welcome Pardner and Quick Quack Car Wash First Responders of Distinction this month.
Richardson was nominated by Potter County Sheriff Brian Thomas.
I would like to nominate a 1st responder for your 1St responder of the month. This man is well known in the area of Law Enforcement, not only in the Panhandle but for the State. He has been with the Sheriff's office for many years. In fact, I will date myself and him but when I was a kid in school working at a fast food restaurant, this man and him partner would come in in the evenings and have coffee nearly every night. It was quite exciting for me who wanted to grow up to be a cop, but I was probably annoying to them who just wanted to relax and drink a cup of coffee. Well over the years and especially since I became Sheriff, he has been a silent mentor to me. Somethings he has verbally taught me and others he has taught me in his actions. I truly respect this man for the dedication that he has provided to his community. He is also well respected on the State level being a part of and leader within the Sheriff's Association of Texas while also being the Chairman of TCOLE Texas Commission on Law Enforcement that was appointed by the Governor. He is also the Chairman of the board of Potter Randall 911 district. It gives me great pleasure to nominate Sheriff Joel Richardson of Randall County Sheriff's Office as this month's 1st responder. A Mentor to many and one that I can call friend as well!
Swope was nominated by Corporal Jeb Hilton with the Amarillo Police Department.
I would like to take this opportunity to recognize Dirk Swope for his endless work to benefit First Responders. I met Dirk about two and a half years ago when I took my current position at the Police Department. Since then, I have heard from him by phone or run into him at events that benefit all first responders, on a regular basis. It seems like every time I see Dirk, he is doing something for the good of First Responders or talking to me about another idea he has to raise funds to benefit them. I know that there is a Board for the 100 Club of the Texas Panhandle I hope that they all know how much I appreciate them, but I want to give a special thank you to Dirk for his constant work to make sure our area's first responders are safe and that they are taken care of if a tragedy does happen. When I joined the police department, I had no clue that there were some people that hate the police. You hear horror stories from around the country of first responders being hurt on the job and senselessly attacked just for being what they are. What I have seen over my years at APD, is that we are blessed with a great community in Amarillo that supports our first responders. Groups like the 100 Club, and many others, promote positive first responder interactions in the community and people like Dirk Swope are leading the way in promoting our first responders as the good guys. Dirk, I cannot thank you enough for your efforts in all that you do. We all know that you have a full-time job and a family, yet you still take your own time to help as many others as you can. May God bless you and your family in all aspects of life. Thank you!
Copyright 2018 KFDA. All rights reserved.